We are The Solar Consortium, an industry trade group of solar panel installation companies and professionals.
Joining a coalition of solar energy installers is a key part of making a real difference in the world's perception and use of solar power.

John Malcovich, Director of Marketing for TSC
We hope you join us.
Read our pages about solar.
The history of solar panels details a complete lineage of where solar panels came from and how they were invented.
Our page about the most efficient solar panels has a lot of useful insight!
How solar installers work together.
The Solar Consortium is a group of like-minded solar installation companies who are interested in making the world a better place through solar. Companies who join the group are able to access our resources and share information on the best products and partners for solar installations.
We have contacts across the industry and membership with the Solar Consortium can help solar installation companies of all sizes.
Solar installers can collaborate by sharing installation techniques, discussing safety concerns during installation, and advocating for uniform installation rules across the world. We can do this by gathering together resources and working together.
Potential solar customers enjoy benefits from The Solar Consortium as we can help to ensure that the installer you contact is an installer near you – or will be willing to put you in touch with a nearby installer. This means that your solar installation is more likely to be supported by folks that are just a few minutes to couple hours away – instead of several states away. This makes a huge difference in the event of an emergency, such as a tree falling on your solar panels or the power in your neighborhood going out and needing emergency battery upgrades.
What can our installers do?
Installers who participate in The Solar Consortium's programs are able to handle all important solar-related technologies.
Installing solar panels on rooftops.
Installing battery backup systems.
Replacing batteries and upgrading battery backup systems.
Diagnosing common problems with your solar array.
Learn more about the requirements to join as an installer.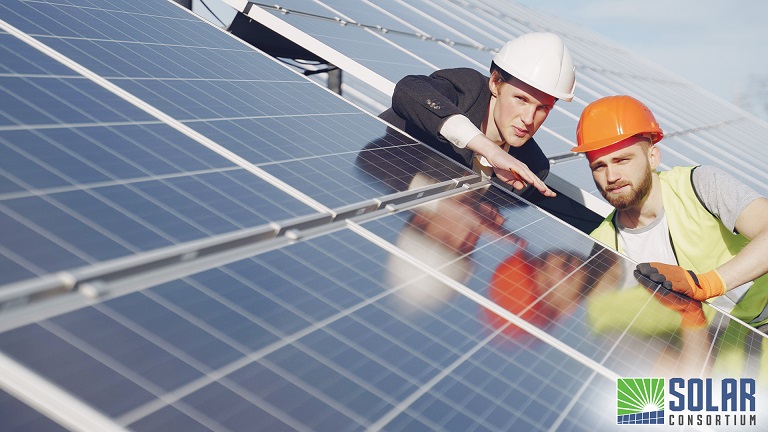 Solar professionals join the Solar Consortium.
>> Click here for more info. <<
We look forward to welcoming you.